Share it...

This page is yours and it's free. If you want to share your best papercraft works with the whole world, feel free to send us from 1 to 5 photos (800x800 pixels maximum) with your name, your country, possibly your homepage url and a short description.

Cette page est la vôtre et c'est gratuit. Si vous souhaitez partager vos meilleures créations en papier avec le monde entier, vous pouvez nous envoyer de 1 à 5 photos (800x800 pixels maximum) avec votre nom, votre pays, éventuellement l'adresse de votre site perso et une courte description.
---
Origami

© kenz3dorigami - 2007
contact: kenz3dorigami at peoplepc.com


Some nice animal and flower models.

---
Two origamic architecture cards
© Abbey Yu (Australia) - 2007
contact: obie_wan_kenabbey_is at yahoo.com.au


Two buildings were designed one after the other in a sort of contemporary view. Recently been inspired by Masahiro Chatani and Ingrid Siliakus.

---
Paper cutting

© Maleine (France) - 2006
contact: madehenri at yahoo.fr


---
Puzzle

© Raphaelle Schicker (France) - 2006
contact: info at maison-de-carton.com
www.maison-de-carton.com


Cardboard Table in 4 parts - Table puzzle en 4 parties.

---
Tête de lit

© Françoise Collomb (France) - 2006
contact: collombfr at wanadoo.fr


Cardboard covered with newsprint and tissue paper...
Carton recouvert de papier de soie et de papier journal...

---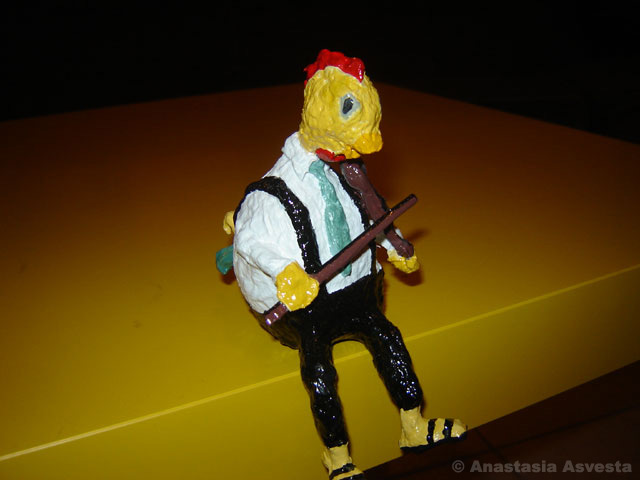 Rooster Violonist

© Anastasia Asvesta (Greece) - 2005
contact: aasves at praksys.vionet.gr


Papier maché

---
Juan Del Rio - Circo Burlesque

© Anastasia Asvesta (Greece) - 2003-2005
contact: juandelrio at netverk.com.ar
www.circoburlesque.com.ar


1 - Circo de Papel en la imprenta recuperada Chilavert. Buenos Aires - Argentina
2 - comienzo...
3 - Corona verdeciudad pequeña en la Patagoniadinosaurio y muñeco
4 Feliz primero de mayo del 2005 desde el Circo de papel en la Boca Calle Ministro Brim 1149 - Juan del Río los saluda ...
5 - En honor a Cristian Andersen
6 - Despertar de los dragones.
7 - Untitled.

---
Chiyogami Ningyo

© Tracy Goh (Malaysia) - 2005
contact: cycygurl at yahoo.com


Japanese paper dolls made of traditional Japanese handmade paper and tissue paper.

---
Miroir

© Véronique DJEDOU (France) - 2005
contact: vdjedou at free.fr
Papier maché and mirror

---
Origami

© Kenneth Miles (USA) - 2005
contact: ksmin3d at yahoo.com


Paper folding

---
Castle in the sky

© Aleyn D Lester (USA) - 2003
contact: aleyndlester at hotmail.com


Paper model

---
V8-Engine

© Yee Shing (Canada) - 2003
contact: yee at yeesjob.com
www.yeesjob.com


Paper model

---
Birds'Party

© Constanza Jimenez (Colombia) - 2001
contact: constanzajimenez at yahoo.com


Origamic Architecture

---
Cafe Buenos Aires

© Marivi Garrido (Argentina) - 2000
contact: marivi_2 at yahoo.com
Origamic Architecture card

---
More visitor's contributions / Plus de contributions